Copy an interest
A quick way of creating several similar or identical interests is copying an existing one.
You can copy any interest. Your own, a partners or a non-partners.
First, open an interest you wish to copy. If the interest is your own, the create copy button is visible up top.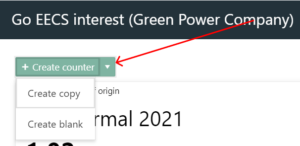 If the interest is not yours, the create copy button can be found by clicking the down arrow on the create counter button.
The create copy button opens the interest creation dialog where you can make any changes to the specifications before making it public on-screen.
In the video, we copy our own interest and create another with a higher volume.